3 Designers Reflect on Their Roles (Graphic Designer vs. Art Director vs. Creative Director)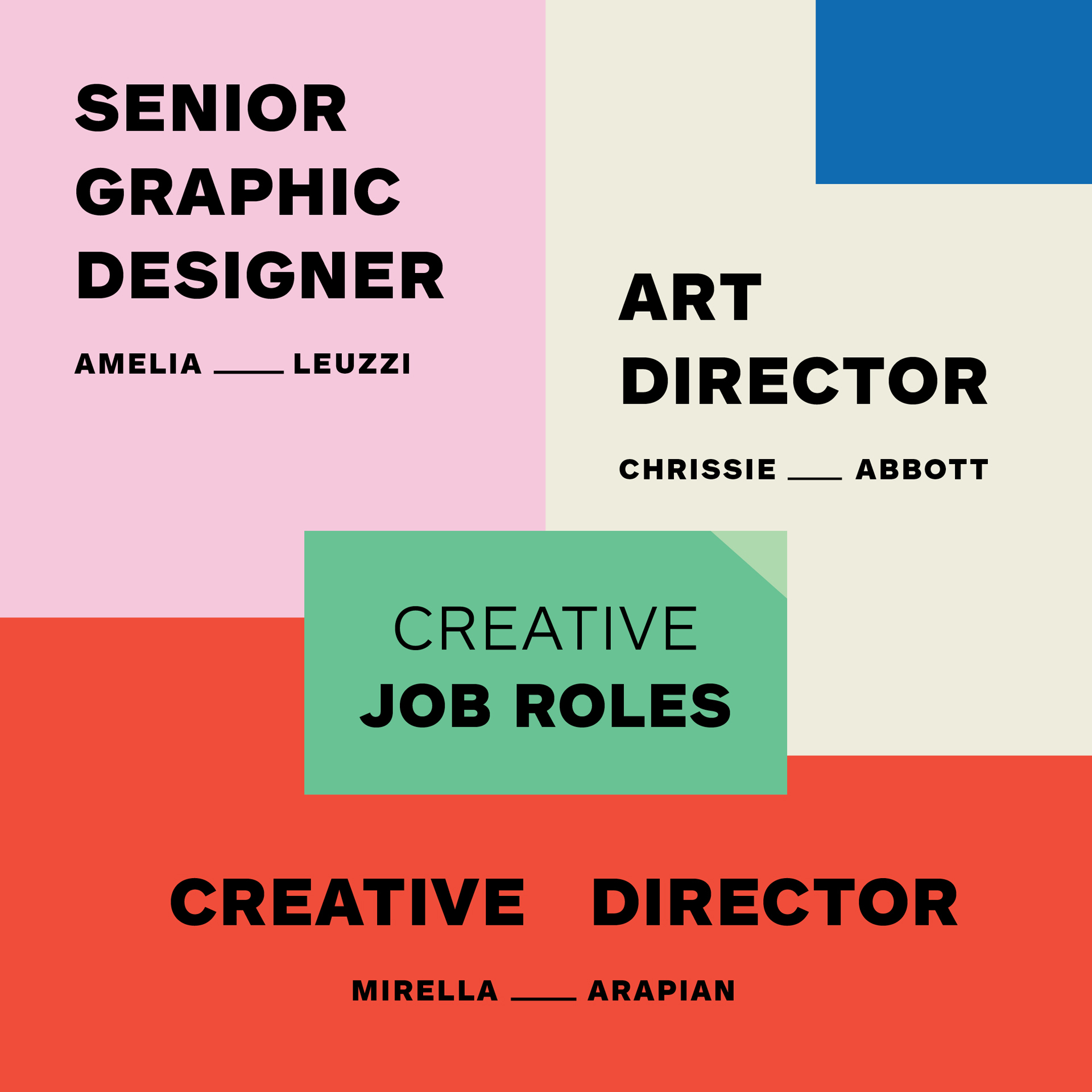 I'm Cathy Sison, a full-time teacher in New York and I wanted to explore deeper into the creative job roles of a senior graphic designer, art director and creative director. Have you wondered what the day to day looks like or the pros and cons of these roles? I've been fortunate enough to interview three talented creatives who shared some insights about what they do.
When I was starting out as a junior designer, I remember coming across these roles and feeling really intimidated by them. I hope these interviews give you more insight and that no graphic design career is linear—you will constantly evolve. Read on to hear from Chrissie Abbott, Art Director, Illustrator and Designer currently doing creative direction for Adidas, Amelia Leuzzi who spent five years as a Senior Designer at DesignStudio and currently freelances and Mirella Arapian, Creative Director of Studio Vertigo and Founder of Womentor.
Chrissie Abbott is a designer, art director and artist from London. She creates bespoke content, imagery and animation for brands utilizing mixed-media and motion for online and print. She's also exhibited her artwork internationally and makes zines. She's worked for some big client names like ASOS, Adidas, Dazed, AnOther Magazine and The New York Times.
What is an art director?
An art director typically oversees the work of other designers and artists who produce images for television, film, live performances, advertisements, or video games. They determine the overall style or tone desired for each project and articulate their vision to artists who submit images, such as illustrations, graphics, photographs, charts and graphs, or stage and movie sets.
What did you study?
Graphic media design with an illustration pathway, at the London College of Communication, part of the University of Arts London.
Did you always know or wanted to be an Art Director?
To be honest no, I was confused about what I wanted to do, I just wanted to make visual things. I started out as a designer, then a freelance illustrator and as my experience grew art direction became more of a natural path as working on photography and video shoots was an exciting way to create visuals. I like working in lots of different mediums beyond design and with art direction, you oversee the holistic visual package.
What does a day-to-day look like for you?
My days during lockdown are very different from my usual day to day, as now I work from home. Currently, I wake up at about 7.30, do some yoga, eat some breakfast. Then I begin with a conference call with my team. I'm currently working on the creative direction for a digital project which is cool because I'm learning a lot and working remotely is really shifting a lot of focus to digital which is interesting! I tend to finish my work at around 6.30/7 then I go for a walk to clear my head. Then I watch TV to switch off!
Great thing about your job?
The variety of projects I get to work on, the people I get to work with.
Not so great thing about your job?
It can be very stressful.
What keeps you excited or inspired?
Everything is fast-paced, seeing what others are creating keeps me inspired. The overlap of fashion, music and art is always inspiring.
What you would tell your junior/graduate self?
Things are going to be ok! Make sure you do what you love! There is enough room in this industry for everyone. Use your unique vision and what you are interested in to forge your own path, look inwards as well as outwards.
Don't follow trends, create them.
Forge bonds and friendships with your peers, these are the people who are the future industry leaders and together you can make amazing things happen. Collaborate and grow your ideas. Spend time with people who inspire you. Ditch the people that make you feel bad.
Amelia Leuzzi, Freelance Graphic Designer, UK
Amelia Leuzzi is a graphic designer based in London. Since the start of 2020, she's been working for herself and prior to that, she worked as a designer at a brilliant agency called DesignStudio. Before moving to London in 2015, she worked in Melbourne with a range of studios—Ortolan, Hungry Workshop, Perimeter Books and TCYK.
In your own words, what is a Senior Designer?
I think the classification of job roles within graphic design varies a lot between companies. At DesignStudio, we would work in small teams on each project, which would consist of a cross-section of job roles. A team would usually include strategists, copywriters, designers (a combination of juniors, mid-weights and seniors), a design director, a creative director and a project manager.
When you're a graphic designer within a team like this, it is, of course, your responsibility to make sure the design work is the best it can be—but at DesignStudio every team member is encouraged to contribute to the project at all stages (research 'immersion', strategy, naming etc.).
In my opinion, the difference between 'levels' of designers in a context like this is experience. The projects you've worked on, the challenges you've faced, the responsibilities you've adopted, the risks you've taken and the things you've learned. And I don't think this necessarily comes down to the amount of time you've been doing it for.
Saying all of this, I've never really been hung up on job roles. If you feel like you are being treated and paid fairly for the services you are providing within a team or to a client, then I'm sure you're doing the right thing.
My job as a graphic designer feels like it is changing all the time. That's the best part.
What's a typical day-to-day?
As a senior designer at DesignStudio, my days were extremely varied. I could be in catch-up with a team of designers sketching out concepts. Writing with strategists. Storyboarding films. Working with animators. Recruiting interns. Presenting to clients. Developing pitches. Traveling around the world to understand the brands we were creating and the people we were creating them for. Crazy amazing job.
As a freelancer, my days are still all over the place but are a little more grounded. I might be brought in by a team to help them out for a day, or a week. Working on illustration briefs. Recording a podcast. Catching up with clients. Logging my expenses. Wandering around the house wondering if I'll ever work again. Or panicking that I've taken on too much. It's only been a few months, during possibly the worst time to not have stable employment, but I'm learning a lot about myself and I'm so grateful to have a job I can do from anywhere. It's such a privilege I try not to take for granted.
Any non-glamorous parts of your job that designers don't talk about?
The burnout. The breakdowns. The pressure some people put on you to deliver. The pressure you put on yourself. I think in general the industry is talking more about this stuff, which is great.
My friend Dervla O'Shea and I co-host a podcast called "What a way to make a living" where we encourage people working in creative industries to open up and tell us how they are really doing in their careers. It's fun and I'm learning loads, you should check it out!
But honestly, being a graphic designer should be so fun. You get to draw, write and tell stories! When I would get stuck taking things too seriously at DesignStudio, my creative director Campbell Butler always used to remind me to have fun. Sometimes we all need reminding.
If you could tell your graduate self something now what would it be?
Enjoy it. Keep following your gut. Things will work out.
The only validation that will matter is the belief you have in yourself.
What keeps you creative and inspired?
Great illustrators and artists. Funny writers. The passion of my friends and peers. Snacks.
Mirella Arapian, Creative Director, AU
Mirella is an Armenian-Australian designer and entrepreneur. She's the founder and creative director of Vertigo, a Melbourne-based brand design studio, founder of Womentor, a global mentorship program for women in graphic design and co-host of Australian Design Radio, a podcast providing the creative community with conversations and commentary on Australian design.
In your words what is a Creative Director?
A Creative Director determines the creative vision of a project or brand and oversees all aspects from ideation to implementation. They are responsible for managing resources and assembling the right people for a project so that their skills and talents complement their objectives. A creative director should be a good leader and mentor and have patience and empathy towards their team as they learn and grow, ensuring they're mentally and creatively challenged as much as possible.
That's amazing that you do so much, what did you study?
I studied a diploma in graphic design at the Queensland Institute of Graphic Art. It was a one-year intensive course equivalent to a uni degree. I learned and did everything by hand, which I objected to at the time but am very grateful for now. I also studied a diploma in business management at RMIT and a bachelor's degree in criminology and criminal justice at Griffith University, but that's a story for another time.
Did you always know or wanted to be a Creative Director?
Not at all. I didn't even know or want to start a design studio—it happened as a result of personal circumstances. In hindsight and with the experience I think it was a good thing because it taught me so much and allowed me to run a studio at my own pace and on my own terms. Not everyone has a straight path from A to B straight out of design school; we are all on our own journey, and that's okay. You can read about how I started Vertigo here.
What does a day-to-day look like for you (more about the role of what you do)?
At the moment my days are quite random due to working from home in lockdown but generally, I split up my days between business and creative. Mornings involve meetings, presentations, workshops and project management. My afternoons are for design, research, development and collaboration.
It took a lot of trial and error to create a manageable structure and I'm happy to have a balance that works. Because morning tasks can be more urgent as they involve clients, I can be more flexible in the afternoons when I need to work on Womentor and other studio projects.
Great thing about your job?
Getting to do what I love every day, working with amazing people, helping businesses bring their vision to life and incorporating my own values into my business so that it gives me more purpose beyond design.
What's not so great thing about your job?
Stress. It's a part of every job but it's definitely not so great!
What keeps you excited or inspired?
Activism, travel, art, modernism and brutalism, color, light, nature, my father and people who fight to make the world a better place. I'm also excited about the future of design and what role it will play in helping to alleviate social and environmental issues.
What you would tell your junior/graduate self?
So many ubiquitous/motivational quotes come to mind but the reality is that the principal at the design school I went to said I'd never make it as a designer or leave my mark in the design industry, so I would tell myself to always back yourself and never deviate from believing in yourself.
Your power comes from within and no one can take it away from you.
Big thanks to Chrissie, Amelia and Mirella for taking the time to chat and share your experience! Be sure to follow them on Instagram and check out their work!
Want to learn more about career opportunities in the creative industry? Find out about these 10 jobs for creative people that are in demand today to find out about the one that might suit you the best.