21 Famous Graphic Designers That Anyone in the Design Industry Needs to Know in 2023
We love graphic design. And we're guessing, as you're here, you love graphic design too. This means that we all love graphic designers too—after all, they're the ones creating the designs. We believe there are some famous graphic designers that everyone should know!
We asked the Shillington graphic design bootcamp community (our students, graduates and teachers) for their favourite designer—past or present—and put them together in this handy list. We've looked beyond the usual roster of heavy hitters: there's award winners, hall of famers, Olympic Torch carriers, Google Doodlers, Black Panthers, paper crafters and more. So, if you're after some inspiration or just want to be amazed, then keep reading!
Gail Anderson's career is super impressive—with stints at Rolling Stone, The Boston Globe, Random House and currently partner at Anderson Newton Design. On top of this, she is also a teacher at the School of Visual Arts, contributes to Imprint and Uppercase magazine and has co-authored numerous books, including The Typographic Universe, American Typeplay and New Modernist Type.
A true powerhouse of design, her work throughout the years has remained impressive and definitely worth a look. We're not the only ones who think so—Anderson has also won many awards from major organisations, including AIGA and the Type Directors Club to name just two. The former of which awarded her their 2008 Lifetime Achievement Medal. Her work is also in the permanent collections of New York's Cooper Hewitt Design Museum, the Library of Congress and the Milton Glaser Design Archives. She's also a self proclaimed hoarder, with collections of salt and pepper shakers, bottle caps, Mexican crosses and cast iron toys.
Sheila Levrant de Bretteville is an American graphic designer who has been a pioneer in feminist and socially conscious design. She founded the Women's Graphic Center in California in 1973, which later became the Woman's Building, a feminist art and education center. Her work has been exhibited at museums around the world and she is a professor at Yale University.
De Bretteville's work is usually politically focused and includes editorial, interiors, events, posters and site specific installations. The aforementioned Woman's Building is her most famous and notable work. The Los Angeles-based building was a feminist art and education center that operated from 1973 to 1991. The building's exterior featured large murals and sculptures created by women artists and the interior was designed to be a welcoming and supportive space for women.
Hey Studio and its Creative Director Verònica Fuerte have been at the forefront of the Barcelona and world design scene since its inception in 2007. For the past 14 years, Fuerte has been producing beautiful work that has become a part of her home city. They've even branded Christmas in the Catalan capital!
Fuerte and her team at Hey work across art direction, branding, packaging, campaign, illustration, print, typography and digital. They've also worked for global brands like Uniqlo and Huawei but also independent smaller Barcelonian brands like Caravelle and Madrid's Hola Coffee. To top it off, Hey opened a shop in Barcelona's Gothic Quarter in 2019.
David Carson is an American graphic designer known for his experimental typography and design approach. He was the art director of Ray Gun magazine in the 1990s and his work has been influential in the world of design and advertising.
Carson's work for Ray Gun was both radical and influential, changing editorial design forever. One of the most famous issues, from 1994 featuring an interview with the late David Bowie, was known for its intentionally distorted typography that mirrored the experimental nature of Bowie's music. Carson's work for Ray Gun and his wider work since have gained him the moniker the godfather of grunge typography.
Emory Douglas is most notable for his work as the Minister of Culture for the American Black Panther Party between the years of 1967 and 1980. For these thirteen years, he oversaw the artistic direction of the organisation's newspaper, The Black Panther. His incredible knowledge of design, production, printing and illustration helped to spread the message of the BPP and was instrumental in its success—finding new ways to spread the word.
As well as the paper, he also produced papers that were plastered across the Bay Area, home to both Douglas and his Party, and America—again spreading the word of the Panthers and recruiting new members. Douglas' work became as revolutionary as the organisation itself—he made use of illustration, lettering, collage and cartooning to produce memorable work that has truly stood the test of time.
Tea Uglow is Creative Director for Google's Creative Lab in Sydney—so you can imagine her work is firmly rooted in digital. Tea's work at Google's Creative Lab mainly involves working with cultural organisations—such as The Biennale of Sydney, The British Museum and Adelaide Fringe—to produce digital experiments.
Working with producers, developers and fellow designers, she aims to create work that intrigues and teaches others. Back in 2018, Tea was recognised one of Australia's #OUT50 LGBTQ Leaders by Deloitte. She also authored Loud and Proud, a volume that catalogues incredible, world-changing speeches by the LGBTQ+ community and its allies.
Lucille Tenazas is a Filipino-American graphic designer known for her contributions to the field of graphic design education. She was the chair of the graphic design program at California College of the Arts and her work for her studio Tenazas Design includes branding, editorial and environmental design. She had designed for many cultural sites in her old hometown, San Francisco.
Tenazas's work includes the previous design of the visual identity for the San Francisco Museum of Modern Art from the 1990s, which featured a bold and colourful logo inspired by the museum's collection. She also designed the exhibition graphics for the Filipino American Centennial Exhibition in 1998, which featured playful typography and bright colours to celebrate Filipino-American culture.
Eddie Opara is a British-born graphic designer of Nigerian descent. He is a partner at the global design firm Pentagram and has been working in their New York office since 2010. His work includes branding, publications, installations and digital experiences. He has won numerous awards for his work, including the National Design Award from the Cooper Hewitt Smithsonian Design Museum.
One of Opara's most significant works is the design of the Studio Museum in Harlem's website, which features a dynamic and colourful layout that reflects the museum's mission to promote the work of artists of African descent. He also designed the visual identity for the 2019 Chicago Architecture Biennial, which features a modular logo inspired by the city's grid system.

Based in Detroit but hailing from California, Lauren Hom got into her amazing career entirely unplanned whilst undertaking an advertising degree. Originally taking on some passion projects, Hom soon grew her practice into a fully fledged and fully thriving freelance practice.
You will definitely have seen Lauren's work around, but she's worked for the Culinary Institute, the Washingtonian, Chobani and loads more whilst also creating properly shareable type work. Hom also runs the fantastic #HOMwork, a free weekly challenge that she started and has been sending out since 2017.
Jessica Walsh is an American graphic designer known for her bold and colourful design work. She co-founded the design agency Sagmeister & Walsh with Stefan Sagmeister in 2010 before founding her own studio &Walsh in 2019. Over the years, her clients have included Adobe, The New York Times and Levi's. She has been recognised with numerous awards, including a Art and Design feature in Forbes' 30 Under 30.
Walsh's work includes the 40 Days of Dating project, in which she and designer/illustrator Tim Goodman documented their attempt to date each other for 40 days. The project was presented as a website and book, and featured playful and colourful graphics that reflected the ups and downs of their relationship.
New York-based creative Shawna X works across digital, spatial and motion—meaning that her electrifying, vivid work has graced a lot of different spaces over the last few years. Taking on screens, cars, surfboards and even a giant animated billboard for Samsung in New York's world famous Times Square, X's work never shies itself away.
As well as Samsung, she's also worked for Adidas, Dr Martens, OKCupid, Squarespace and the Museum of Pizza. With such an undeniably impressive roster, you've definitely seen X's work somewhere in the past few years—pizza fan or not.
Lance Wyman is an American graphic designer known for his iconic branding work. He has worked on projects for clients around the world, such as the Minnesota Zoo, the National Mall in Washington, D.C. and Jeddah International Airport in Saudi Arabia.
Wyman's most famous project is probably his design of the visual identity for the 1968 Mexico City Olympics, working under the tutelage of Mexican architect Pedro Ramirez Vazquez. The design featured a bold and colorful logo inspired by the indigenous Huichol people. Wyman also designed the signage and wayfinding system for the Mexico City Metro, which features brightly colored symbols and patterns to help users navigate the complex system.
British designer, art director, illustrator and artist Aries Moross has been running their own studio, Studio Moross, since 2012. Moross and the studio focus mainly on music-related projects, designing the posters for Manchester's annual Parklife festival, artwork for Spotify's Renegades: Born in the USA podcast hosted by Barack Obama and Rod Stewart and also the staging, merch and posters for the Spice Girls 2019 comeback tour. In other words, Moross' influence on how the music world looks in recent years has been MASSIVE.
As well as their design work, Moross has also directed music videos for Jessie Ware, Simian Mobile Disco and more. Interestingly, they also ran the Olympic Torch, through Lewisham, South London, before the 2012 London Olympics.
Ikko Tanaka was a Japanese graphic designer and artist who played a significant role in shaping the visual culture of post-war Japan. Born in Nara, Tanaka began his career in the 1950s as a textile designer before shifting his focus to graphic design. In 1960, he co-founded the Nippon Design Centre, which became one of the leading design firms in Japan.
Tanaka's work was characterised by his innovative use of typography, colour, and geometric shapes. He was also known for his integration of traditional Japanese aesthetics into modern design. Some of his most notable works include the logo for the Expo '70 in Osaka, the posters for the 1998 Nagano Winter Olympics and the visual identity for the Seibu department store.
Leta Sobierajski is a New York-based designer who creates her unique work by combining traditional graphic design with photography, art and styling. Running a design studio with her husband and collaborator, Wade Jeffree, Sobierajski works in a wide range of disciplines—ranging from branding and art direction to installation and video.
She's worked with a large variety of clients— like the Tate Britain in London, the AIGA Eye on Design Conference and fashion houses, Gucci and Comme Des Garçons. Her unique styling and processes mean that her work stands out and is instantly recognisable.
Paula Scher is an American graphic designer known for her contributions to the field of information design. She is a partner at the design firm Pentagram, and her work includes branding, packaging and environmental graphics. She has been recognised with numerous awards, including induction into the Art Directors Club Hall of Fame.
Scher's work has shaped the graphic design of New York City since the '90s. Her most famous design is the brand identity for the city's The Public Theater, which features a bold and dynamic logo inspired by the theatre's mission to provide a platform for diverse voices. She also designed the environmental graphics for the New York City High Line, which features playful typography and bright colours.
Another name we know you've heard before, the late Saul Bass is a legend in the design world. He is best known for his work in the film industry, designing both posters and film title sequences for some of the biggest directors and films in history. Two of Bass' most famous film posters are for Alfred Hitchcock's Vertigo and Stanley Kubrick's The Shining, designed 20 years apart in 1960 and 1980 respectively. And both are still well remembered and appreciated today.
Aside from his work in film, Bass was also a prolific logo designer designing some of the most widely recognised logos in American history, including United Airlines, AT&T and Geffen Records.
The undisputed queen of colour, Morag Myerscough is a British designer and artist, who heads up her studio, Studio Myerscough. Myerscough's work can be characterised with its expressive use of colour, often using neons and other brights, and intelligent use of pattern.
Working in both 2D and 3D, Myerscough's work always perfectly embodies her mantra: 'make those happy who are near and those who are far will come'. Her installation work has appeared in cities all over the world, from Las Vegas to Leeds and Manchester to Mexico City.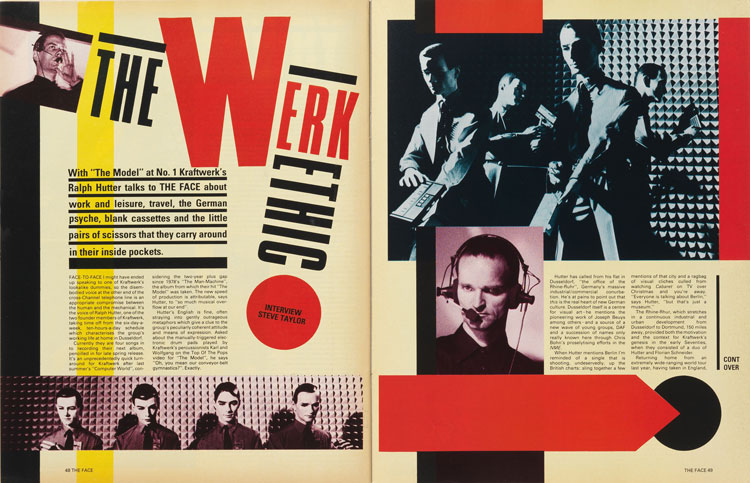 Neville Brody is an English graphic designer and art director, known particularly for his work in typography and editorial design. He was the art director of magazines The Face and Arena in the 1980s, as well as designing numerous record covers throughout his career. He is also a professor at the Royal College of Art in London.
Brody's work for The Face magazine in its initial run from the 1981 to 1986 featured a bold and experimental approach to typography and layout. His work for the magazine and musicians in the era was highly influential and helped to define the aesthetic of British Youth Culture in the 1980s and '90s.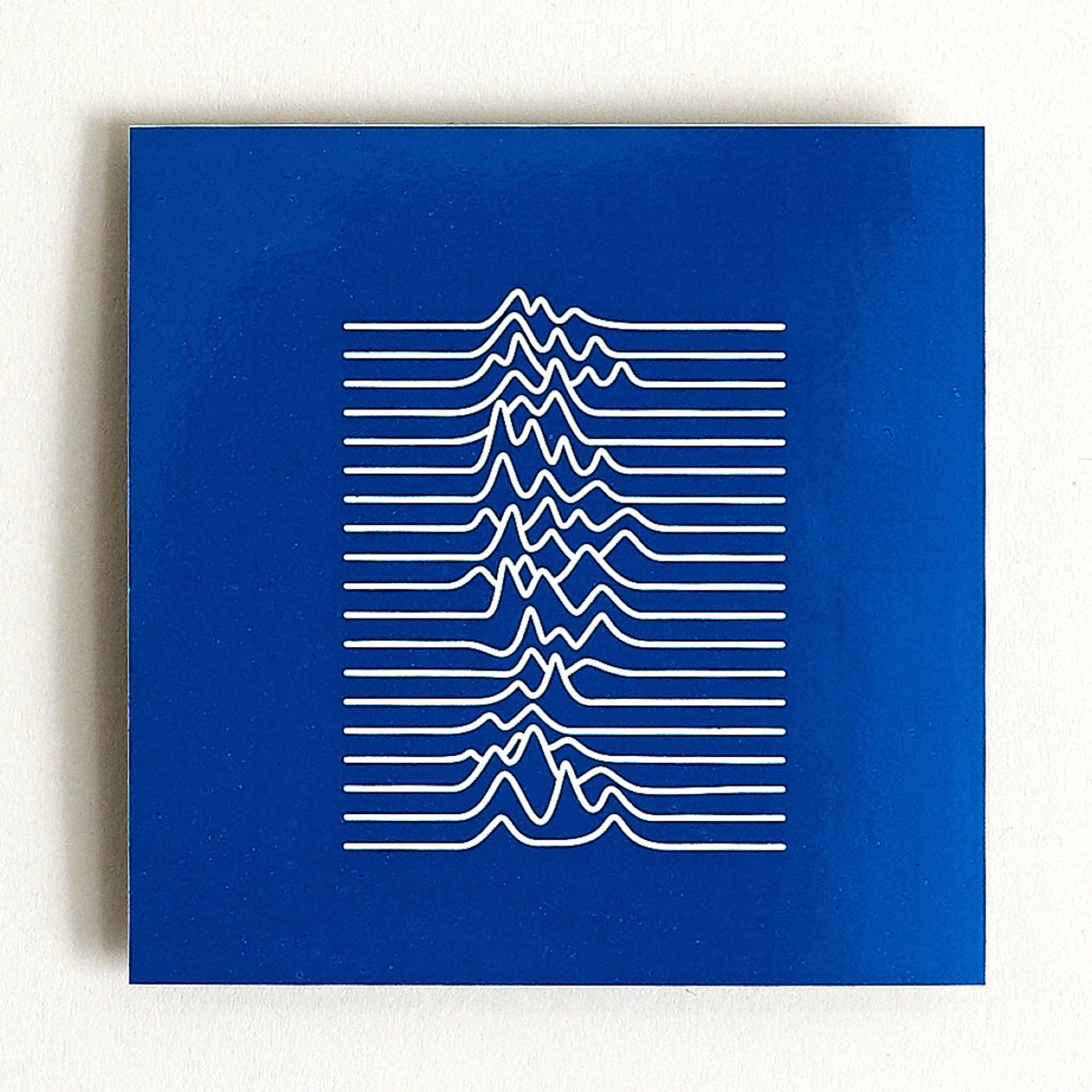 Unknown Pleasures, the Joy Division album that Peter Saville designed the sleeve for might be one of the most reproduced pieces of graphic design ever. It's been put on t-shirts, beach towels, plates and an entire Raf Simons collection. It's also been parioded as a scene from The Simpsons and as a döner kebab—but imitation is the sincerest form of flattery, right?
All this shouldn't put a dampener on Saville's importance, though. His design work for Manchester's Factory records shaped an era of both design and music. Saville's work featured in its own exhibition at London's Design Museum in 2003.
Jonathan Barnbrook is a British graphic designer known for his socially conscious and politically charged design work. He has worked on projects for clients such as musician David Bowie, the magazine Adbusters and the British Council. His work is also well known in Japan, where he has designed for clients including development project Roppongi Hills.
Though Barnbrook's most widely known work are the designs of several album covers for David Bowie, namely Heathen, The Next Day and his last album Blackstar. Barnbrook's work for the generation defining musician feature bold and graphic typography designed specifically for each album and images that reflect Bowie's artistic vision. He also collaborated with artist Damien Hirst on books and artworks for his restaurant Pharmacy.
Now that you've learned about famous graphic designers, what about your design career?
Obviously there are loads more designers—famous and not—that are creating truly inspirational work, but these 21 are definitely a good start. 
Want to follow in their footsteps and start designing yourself? Shillington's graphic design course is the perfect way to kickstart your graphic design career.