9 Best Design Colleges in Los Angeles (2023 list)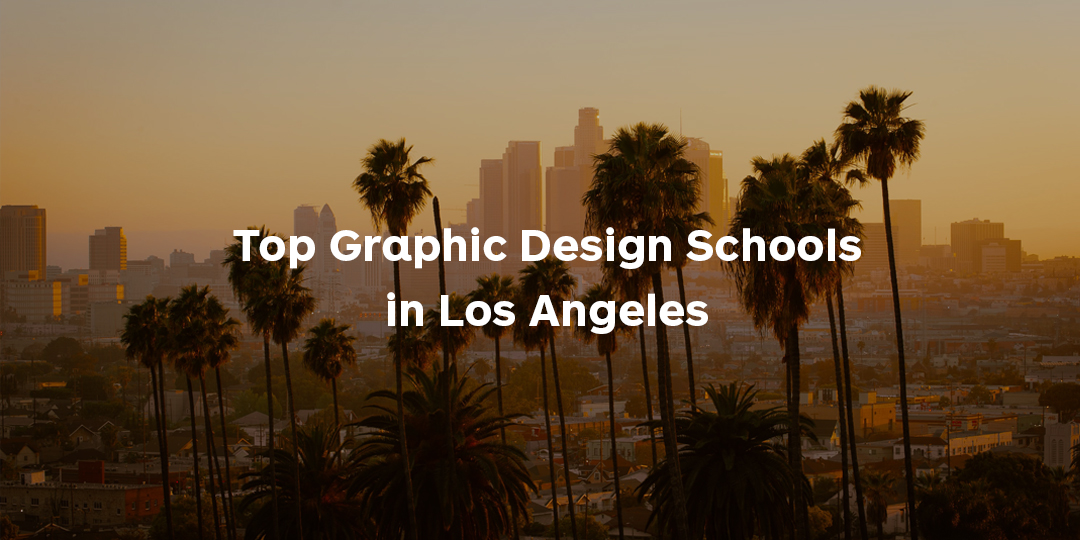 Looking to become a graphic designer in Los Angeles? The City of Angels definitely needs no introduction—Venice Boardwalk, The LACMA, Santa Monica Pier, The Getty, the Hollywood Hills, the Lakers, Grand Central Market, Koreatown, Rose Bowl Flea to name a few highlights. The USA's second biggest city has got it all—and there's also no shortage of places where you can study graphic design.
We're going to take you through 9 of the best graphic design schools in Los Angeles to help you make your decision about where to study—and also offer some compelling alternatives.
Though, did you also know that you don't actually need a degree to be a graphic designer? There are some excellent graphic design short courses and bootcamps out there that mean you can become a graphic designer without investing the huge amount of time and money it takes to gain a degree. The best of these courses is Shillington's innovative online graphic design course that gets you fully prepared to work as a graphic designer in a seriously short amount of time.
1. Shillington
Location: Online, New York, London, Sydney and Melbourne
Course Duration: 3 months or 9 months
Shillington's graphic design course covers everything you need—from design theory to design programs. Whether on campus or online, you'll learn from experienced, practicing designers before immediately applying your skills in a studio environment. And, this all happens in just three months full-time or nine months part-time. There's four campuses around the world—in New York, London, Sydney and Melbourne—so you can choose your nearest campus or even study graphic design abroad. Or, if you'd rather study online, there's three different time zones to choose from so you can study whenever works best for you.
2. Otis College of Art & Design
Location: Los Angeles, California
Duration: 1—4 years (dependent on course)
Founded in 1918, Otis College of Art & Design was the first dedicated independent school of art in Los Angeles. One of the best graphic design colleges in Los Angeles, Otis is located in Westchester in Los Angeles, close to LAX Airport and Marina Del Rey. The college is housed in Eliot Noyes's former IBM Aerospace Headquarters, an American Mid Century Modernist and Brutalist icon.
Also, Otis offers both a Communication Arts undergraduate degree with a major in Graphic Design and a Master of Fine Arts in Graphic Design. Otis Graphic Design students are offered study in UX/UI, typography and type design and other typical graphic design skills, whilst also learning printmaking and traditional letterpress skills. Students also create work throughout their degree, which is subject to critiques, reviews and workshops. The graduate program takes this to the next level with the student designers investigating the issues of the day and creating design projects that help to make the world a better place. The Los Angeles-based Graphic Design Masters' is a year long program, which includes workshops, discussion and coursework.
3. California Institute of The Arts
Location: Santa Clarita, California
Duration: 4 years
Located in Santa Clarita, in North Los Angeles, the California Institute of the Arts or CalArts as it is known for short, is one of the best design schools in California.  CalArts was founded in 1961 when the Chouinard Institute merged with the Los Angeles Conservatory of Music. The resulting private art university offers degrees in, to name a few, Character Animation, Creative Writing, Film Directing, Digital Art and, of course, Graphic Design.
Students on the CalArts Graphic Design course are taught the full spectrum of graphic design—from print and publication design to motion graphics for broadcast and film. Students are also given classes in design history and education to help with their future careers. On top of this, students of all years have access to a communal studio to work round the clock. They additionally have access to the Art School's (which the Graphic Design course is part of) facilities and labs—which include a print and media lab, a photo lab, MacLab amongst others. Everything you need to become a graphic designer in Los Angeles!
4. University of California, Los Angeles (UCLA)
Location: Los Angeles, California
Duration: 4 years
A college that needs no introduction University of California, Los Angeles, or UCLA as it's more commonly known, was established in 1882. One of the US's Public Ivies, UCLA is home to just under 46,000 students across 12 different professional schools, as well as the UCLA Bruins, who have one the second most NCAA championships in the country. But did you also know UCLA is one of the best graphic design schools in Los Angeles? That's right UCLA offers Majors in graphic design.
Part of the School of Art and Architecture, students can expect to receive a design education that encompasses a global perspective and a multidisciplinary digital focus. Students are taught branding, typography, printing, 3D modeling and more—allowing them to become talent, well rounded graphic designers in Los Angeles. Though, as UCLA is the most applied-to school in the USA, entry to the graphic design major is super competitive! Admission to the course is based both on creative talent (so you have to have a creative portfolio) and academic achievement. UCLA is also a great university to foster creativity with its own public arts institutions. It boasts the Hammer and Fowler museums which showcase performance, art and culture—which help to make it one of the best Los Angeles graphic design colleges.
5. University of Southern California
Location: Los Angeles, California
Duration: 4 years
Founded in 1880, the University of Southern California (USC) is the oldest private research university in Los Angeles and the State of California itself. Amongst the twenty-two schools that USC is made up of is the Roski School of Art and Design which cements USC as one of the best graphic design schools in Los Angeles. Roski offers both an undergraduate Bachelor of Fine Arts (BFA) in Design and a graduate Master of Fine Arts (MFA) in Design.
Slightly different from other courses, USC's Design BFA is based around the idea that all designers are artists and makers so starts with a first year foundation which includes illustration, drawing and other media. Students also get hands-on in skills-based workshops in 2D and 3D design-specific media. There's also critical theory seminars, internships, international design study tours and a senior thesis. USC also aims to create well rounded designers, so all students on the Design BFA have to complete modles in a complementary field such as business, marketing or advertising. Though the course at USC isn't as graphic design focused as others, its cohesiveness makes USC one of the best graphic design colleges in Los Angeles.
6. California State Polytechnic University Pomona
Location: Pomona, California
Duration: 4 years
California State Polytechnic University Pomona—usually referred to as Cal Poly Pomona—is a public polytechnic university and one of the best graphic design colleges in Los Angeles. Founded in 1938, the school now has over 29,000 students across 147 degree options. Amongst these options is a Bachelor of Fine Arts (BFA) in Graphic Design—meaning that students can become a graphic designer in Los Angeles with Cal Poly Pomona. 
Cal Poly Pomona's graphic design degree is a great way of learning the core knowledge of a working graphic designer: typography, print, identity, illustration, packaging, web design, motion graphics and environmental graphic design. Students are also encouraged to take supporting courses in advertising, marketing and communications which are also on offer at the college. Cal Poly Pomona also boasts an excellent location—which means students are able to take on internships in Los Angeles graphic design studios. They also keep abreast of any changing technology within the industry. The degree is made up of required core and support courses and elective support courses. A quick browse through the list throws up normative and expressive typography, modules in design and art history, screen printing and a whole lot more.
7. Chapman University
Location: Orange, California
Duration: 4 years
One of the best schools for graphic design in Los Angeles, Chapman University was founded in Orange in 1861. Amongst the 11 schools that Chapman has to offer is the Wilkinson College of Arts, Humanities and Social Sciences which, amongst its various degree offerings, has a Bachelors of Fine Arts (BFA) in Graphic Design. Chapman's Graphic Design degree is a combination of both exploratory and research-based processes, with students developing a professional graphic design portfolio throughout the course.
Chapman's Graphic Design offering gives students hands-on experience with industry-standard equipment and software—including the all important Adobe Creative Suite but also 3D printing and laser cutting. Chapman students are also required to take on a 120 hour design internship in order to graduate. The university also holds an annual symposium, the Margo Pawell Design Symposium, which brings together the student body and the regional design community. This makes sure that Chapman graduates are ready to hit the ground running as graphic designers in Los Angeles.
8. ArtCenter College of Design
Location: Pasadena, California
Duration: 4 years
ArtCenter College of Design, founded back in 1930 in Downtown Los Angeles, is one of the best schools for graphic design in LA. ArtCenter aims to create a new model for art and design education in the 21st century—taking a conservatory-like approach to teaching and learning. Given its name, ArtCenter College of Design offers an Undergraduate degree in Graphic Design, which, in their own words, teaches students "to infuse words and images with life and meaning".
Taking in both emerging and traditional media, ArtCenter's graphic design curriculum is full of amazing opportunities for students. Over the eight terms that make up the four years of the degree, students undertake modules in motion design, typography, communication design, information design and graphic design history—giving them a full overview of contemporary graphic design practice.
ArtCenter is also home to the incredible Hoffmitz Milken Center for Typography, named after Leah Toby Hoffmitz Milken who lectured in typography at ArtCenter for over two decades. The Center was opened in 2015 "to advance the research, teaching and understanding of letterform design." It's a great addition to one of the best graphic design colleges in Los Angeles.
9. Santa Monica College
Location: Santa Monica, California
Duration: 2 years
Santa Monica College is a public community college in Santa Monica, a seafront part of Los Angeles—the only public higher education provider in the area. Founded in 1992, it now has over 30,000 students in 90 different areas of study. The best part? Santa Monica College offers both an Associates' Degree and a Certificate in graphic design—which makes it one of the best graphic design colleges in Los Angeles. On both sides of the program, students will learn to solve real world problems using images, designs and words.
SMC offers its graphic design students the option to study both online or on-campus so they can shape their study around their lives. Their students, whether online or on-campus or the Associates' program or Certificate program, learn many elements of what it takes to become a graphic designer in Los Angeles. They are taught wireframing and web design, packaging, logotypes, magazines, corporate reports and more. This is complemented by modules in color theory, graphic design principles, art and the latest industry software to produce full rounded designers. SMC graduates go on to work within agencies or as freelancers, but there's also graduates working as UX (user experience) designers and web designers as well.
10. The Los Angeles Film School
Location: Hollywood, California
Duration: 3 years
The Los Angeles Film School is a college in Los Angeles that offers Associates' and Bachelor's degrees in majors that relate to the entertainment industry. Amongst them: graphic design. LA Film School, as it is known, offers a Bachelors of Science (BSc) in Graphic Design as one of its online courses which makes it one of the best graphic design schools in Los Angeles. The course takes place over 3 years, so is also a faster option than some of the other degree courses in this list!
LA Film School's online students learn a variety of different, essential design skills across different classes including experiential design, motion design and logos & symbols. All being built up from the foundation of modern design principles. LA Film School students also benefit from the college's Student Techkit which includes a MacBook Pro, with all the relevant software including Adobe Creative Cloud, and an iPad with a portable ring light and stand. The college also has its very own Learning Management System (LMS) which they use for online classes—which allows for private discussion, feedback and watching the instructor videos from wherever you are. All this together makes it a great place to study graphic design in Los Angeles.
Learn more about the Shillington graphic design course today or come along to one of our Info Sessions (either online or in person) to learn about the course and chat to some teachers and graduates.